Special Deals
BU2032SM-JJ-MINI-GTR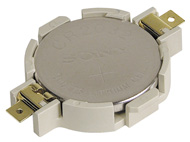 The BU2032SM-JJ-MINI-GTR is currently having a special deal.

MPD'S Minis (BU2032SM-JJ-MINI-GTR) reduce the profile of battery holders to nearly nothing. By drilling a small hole into the surface of the PCB, a mini coin cell holder can be placed partially in the circuit board. This drastically lowers the profile of the battery holder, making Minis the perfect solution wherever the populated board's height is a top priority. The high pressure recurved contacts ensure a secure and tight connection with the battery, while leaving it still easily accessible for replacements. Minis are simply the lowest profile coin cell holders, with the CR2032 version (BU2032SM-JJ-MINI-GTR) standing only 1.95 mm above the board. This saves almost 3 mm in board height compared to the lowest conventional CR2032 holders available on the market.
These surplus units were manufactured on a medically qualified production line for one of the world's largest medical device manufacturers. Designed for automated manufacturing, the BU2032SM-JJ-MINI-GTR is RoHS compliant and packaged in tape and reel for quick placement. The 13 inch reels are made to EIA-481 specifications and hold 350 pieces per reel, with 3,500 pieces in a full case.
| | |
| --- | --- |
| Price: | $0.25 ea. |
| MOQ: | 7,000 units |
| SPQ: | 3,500 units |
For additional information, please visit the BU2032SM-JJ-MINI-GTR part page

Valid for a limited time. Final Sale. Fully Warranted. Offer valid for new orders only.